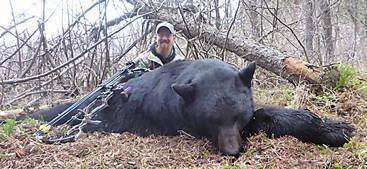 Discover Black Bear Country
Steeprock River Outfitters specializes in spring and fall Black Bear hunts with over 2,700 square miles of our own exclusive hunting territory between 3 different Game Hunting Areas. Each of our Black Bear hunts have a high percentage of seeing several different types of Black Bears including harvesting a big or color phased Bear.
[read more]
Steeprock River Outfitters is centrally loacted near Swan River in Manitoba, and is also in close proximity to The Pas, Manitoba and Hudson Bay, Saskatchewan. Close parks and recreational areas include the Porcupine Provincial Forest, Duck Mountain Provincial Forest, and Clear Water Lake Provincial Park.
Trophy WhiteTail Deer
Steeprock River Outfitters specializes in muzzleloader and rifle whitetail trophy hunts and offers some of the best hunting in Manitoba. Known for big-bodied whitetail deer, we also are well known for big antlered Boone & Crockett whitetails scoring up into the 200 class.
Each of our hunts offer the chance at scoping out many different whitetails in their natural wild abudence. Comfortable treestands in well established hunting areas offer you the chance at the whitetail buck you have been waiting for! You may also harvest a timber wolf during your hunt as long as your whitetail tag has not been filled at no additional cost. Enjoy your memorable hunting experience with Steeprock River Outfitters and get ready to take home the trophy of a lifetime! [view gallery]